Samsung Microwave Oven India – Customer Service Number, Service Centers, Warranty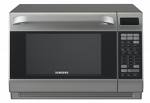 Samsung Microwave Oven Customer Care provides services regarding demo of the microwave oven or provides other technical services to the consumers who bought their products.
Samsung Microwave Oven Customer Care Details
Samsung Microwave oven customer service numbers are mentioned below for the benefit of the customer to contact Samsung Microwave oven service person regarding demo of the products or to enquire about process, model of Samsung Microwave oven convention, grill and other technical services. The service will be available from Monday to Sunday between 9 am to 8 pm only.
Customer Care Number
Toll Free Number : 1800110011
180030008282
Contact Number : 30308282
SMS service : SMS> care to 54242
Company Website : www.samsung.co.in
Samsung Microwave Oven Service Centres
Samsung Microwave Oven Service Centre-Bangalore
No. 522/11, 63rd Cross, 5th Block, Rajaji Nagar
City : Bangalore
Karnataka, India.
Samsung Microwave Oven Service Centre-Kolkata
P280/1, Bangur Avenue, Block A, Near Modern School
City : Kolkata
West Bengal
India.
Samsung Microwave Oven Service Centre – Mumbai
Name : Vision Services
Address :
Plot No.646 /11,
Old Kolsawadi, Kapad Bazar Road,
Lane Opposite To Padadi Mhim.
City : Mumbai
Phone Number : 022-32663555, 9834000000
Email-id : samsungvision@gmail.com
Samsung Microwave Oven Service Centre – Visakhapatnam
Name : Ajit Digital Engineering
Address :
No.N7-11-1, Ground Floor,
Esi Hospital Rd,
Near Pantulugari Meda
Old Gajuwaka.
City : Visakhapatnam
Phone Number : 91-9440190753
Samsung Microwave Oven Service Centre – Hyderabad
Name : Touch Home Express Pvt Ltd
Address : 6-3-1186/5/2, Begumpet, Lane Beside.
City : HyderabadPhone Number : 040-44664477
Samsung Microwave Oven Warranty
Take home peace of mind with a 10 year warranty on the ceramic enamel cavity in Samsung Microwave Ovens. You can enjoy total peace of mind with Samsung smart warranty programme. This programme of Samsung ensures and enhances the efficiency and productivity of your product.
About Samsung Microwave Oven
Samsung is one of the top leading brands in India that offers wide range of products with innovative solutions. Samsung Microwave Oven features many latest features that makes user feel comfortable and convenient. They are available in different types namely Slim Fry, Tandoor, Convection, grill and solo microwave ovens. Sensor Tech humidity sensor monitors helps in easy adjustment of cooking mode and the ceramic enamel cavity helps in durability of the oven.
Samsung Microwave Oven Frequently Asked Questions
What is the best microwave oven in Samsung?
Samsung Convection Microwave Oven CE73JD could be the best oven in India with auto defrost, triple distribution system and 67 auto cooking recipes including 60 Indian recipes.
What is Samsung smart warranty programme?
It is to ensure product efficiency and productivity. For additional information on extended warranty programme, visit company website.
What could be the price range of Samsung microwave oven?
It may vary depending on the features. Minimum price may be 6000.
For any other information regarding Samsung Microwave Oven models, review, convention users can visit Samsung Microwave Oven India Website https://www.samsung.com/in/microwave/range.html
To get more updates on microwave ovens please Visit Company face book and twitter pages.
Face book : https://www.facebook.com/SamsungMicrowaveOvenCookingClasses/
Twitter : https://twitter.com/Samsung_IN