Accord Mobiles Customer Care, Contact Number, Website & Email Support
Accord Mobiles Customer Care Number and Customer Service Support information is given below for users who would like to contact the company for any queries/complaints that they may have with regard to the Mobile phones.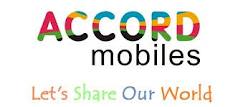 Accord Mobile is a telecom division of Accord Communications Ltd. established in the year 1990 and has areas of expertise in R&D based manufacturing, OEM outsourcing & sales & servicing competency at national level. Accord & its promoter's associate companies have five manufacturing plants in Meerut & special economy zone at Haridwar comprising of 30,000 & 1,40,000 sq. ft. area respectively
Accord has three verticals – The first one is the PBX & Key Phone Division which has over 4.5 million Extn users, seven hundred distributors & two thousand resellers. Second one is the the GSM Pay Phone Division :Manufacturing of GSM Pay Phones, Fixed Cellular Terminals and Fixed Wireless Phones directly for GSM Operators like – Airtel, Vodafone, Idea, BSNL & Aircel at national level. Third one is the The Mobile Phone & Accessories Division : It is a well determined & serious business of Accord to start with entry level handsets for rural & urban market at national level. The product portfolio will be enhanced quickly by adding mid level & business handsets shortly in GSM & CDMA.
Accord Mobiles Address:
Accord communications limited,
3-4, Mohkampur Industrial Area-1,
Meerut-250002.
Phone: (0121)3266477, 3267140.
Fax: 0121-2515125
SMS: AMB to 56767
Accord Mobiles Customer Care Number: (0121)3266477, 3267140.
Website: www.accordmobiles.com / https://www.accordmystore.com/
E-Mail Support: info@accordmobiles.com