Videocon Air Conditioner(AC) Customer Care Number, Service Centers, Warranty
Videocon  Air Conditioner(AC) Service Centres & Customer Care number – Customers can call the company for any queries they may have with regard to the Videocon AC products. Customers can also raise complaints, service issues, warranty claims or any other product related queries answered through the call center. Videocon Customers can call the nearest service centers to service & repair their Videocon AC which are furnished below.
Videocon AC Customer Care
Toll Free Number : 1800 419 40 40 / 39404040(Prefix the STD code)
Customer Care Number : 02431-251501, 02, 03, 04
Customer Care Email ID: customercare@vgmail.in
For General Inquiries mail: contact@videoconmail.com
SMS service: SMS VG <model name> to 56677 to know about the instant product information.
Website: http://videoconworld.com/
Videocon AC Service Centers India
Hyderabad
V J Refrigeration
Address: Shop No: 9-1-369/A/21, Bapunagar,
Langer House, Hyderabad – 500008
Phone: 9550160477
Hyderabad
Power Tech Electricals
Address: 2-85/9/2, Gachibowli,
Hyderabad – 500032
Phone: 9700453999
Hyderabad
Chill Airconditioner
Address: Plot No 5, Main Road,
New Bowenpally, Hyderabad – 500011
Phone: 9246373155
Hyderabad
Srinivasa Electronics
Address: 601/1 1St 11, Kukatpally Main Road,
Kukatpally, Hyderabad – 500072
Phone: 9030783786
Hyderabad
Power Tech Electricals
Address: Shop No 6, Hig 127 & 128, Chandana Enclave,
Kphb Colony, Kukatpally, Hyderabad – 500072
Phone: 9032863999
Ahmedabad
Vision Air Conditioning Group
Address: 160 Ronak Park, Vasna,
Ahmedabad – 380007
Phone: 9825435858
Ahmedabad
Sagar Electronics
Address: 7, Mamta Shopping Centre,
Chandkheda, Ahmedabad – 382424
Phone: 9727907502
Ahmedabad
Videocon Smart Service
Address: 3Rd Floor, Videocon House, Swastik Cross Road,
C G Road, Ahmedabad – 380009
Phone: 079-40268555
Ahmedabad
Happy Cooling System
Address: Shop No 3, Hiral Shopping Centre,
Bhatta Cross Road, Paldi, Ahmedabad – 380007
Phone: 9904915888
Ahmedabad
Next Showroom
Address: A 9, Matrushakti Society, India Colony Road,
Bapunagar, Ahmedabad – 380024
Phone: 079-69550001
Bangalore
Zaheer Air Conditioner
Address: No 14, Kanaka Nagar, R T Nagar,
Bangalore – 560032
Phone: 9886846849
Bangalore
Freeze Control
Address: No 2, Lakshmipuram, 15Th Cross,
CMH Road, Indiranagar, Bangalore – 560038
Phone: 9845203882
Bangalore
Priya Aircon Systems
Address: No.176 And 46/1, Pavanputra Building, 60 Feet Road Kiadb,
Chokkahsandra, T Dasarahalli, Bangalore – 560057
Phone: 9845700476
Bangalore
Techtonic HVAC Services India Pvt Ltd
Address: No 75, Eramma Muni Reddy Kalyana Mantapa Building,
6Th Block, Koramangala, Bangalore – 560095
Phone: 9164022777
Bangalore
Omega Air Condition And Refrigerator
Address: No.39, 80 Feet Ring Rd, Jnana Bharathi, Jnana Ganga,
Nagarbhavi, Bangalore – 560072
Chennai
Sai Anjaneya Service Centre
Address: No 3, 2Nd Main Road Mgr Nagar,
Velacheri, Chennai – 600042
Phone: 9444155012
Chennai
Fresh Air Conditioner
Address: No 86, Samiyar Garden. Alandur Road,
Saidapet, Chennai – 600015
Phone: 9710943511
Chennai
Ags Air Conditioners
Address: No 63, Samiyar Garden, Saidapet,
Chennai – 600015
Phone: 9962505807
Chennai
Technosys Home Care Private Ltd
Address: Old No. 90 New No. 104, Dr. Radhakrishnan Salai,
Mylapore, Chennai – 600004
Phone: 9962504975
Chennai
St Enterprises
Address: No 52/48, Kannagi Street Tambaram,
Tambaram East, Chennai – 600059
Phone: 9840719219
New Delhi
Abdiel Aircon
Address: P -8, 26, Pocket -8 Dwarka Phase-1,
Nasirpur, Delhi – 110045
Phone: 9899525310
New Delhi
Perfect Aircool Center
Address: 175/60 Street No 1 Ghaffar Manzil, Zamia Nagar Okhla,
Zakir Nagar-Jamia Nagar, Delhi – 110025
Phone: 9540392786
New Delhi
Surya Refrigeration
Address: 135, Gali No-1, Nirankari Colony,
Delhi – 110009
Phone: 9599787979
New Delhi
Power Air Conditioning
Address: No:- 12, Near Surbhi Hospital, Morna Sector 35,
Gautam Buddha Nagar, Noida Ho, Delhi – 201301
Phone: 9758624904
New Delhi
Fast Technical Cooling Center
Address: H No 29, Gali No 1, Nithari,
Sector 31, Delhi – 201301
Phone: 9761283463
Kolkata
Home Care Cooling Services
Address: Srinagar, 3 No Gate,
Madhyamgram, Kolkata – 700129
Phone: 8334072296
Kolkata
Sanjay Refrigeration
Address: 21/1, M B Sarani, More Avenue,
Kolkata – 700040
Phone: 9330801962
Kolkata
Kanan Refrigeration
Address: 192/A, Ajay Nagar,
Santoshpur, Kolkata – 700075
Phone: 9163768242
Kolkata
Kailash Air Conditioning Co
Address: Bt Road, Cossipore,
Kolkata – 700002
Phone: 9339790752
Kolkata
Eco Cool Engineering Works
Address: 3/9, Kailash Ghosh Road,
Barisha, Kolkata – 700008
Phone: 8910434306
Mumbai
Prins Air Cool Service
Address: Shop No 46, Majiwada Village Road,
Thane West, Thane – 400601
Phone: 9930298433
Mumbai
Weather Cool Engineers
Address: Shop No. G-5, New Siddhi Vinayak Co-Op Hsg Soc Ltd,
Charai, Dr. Lazrao Road, Thane West, Thane – 400601
Phone: 9930267195
Mumbai
Pawan Cool Service
Address: G-21/46, Bmc Market Building, Station Road,
Bhandup West, Mumbai – 400078
Phone: 9967870058
Mumbai
National Aircon
Address: Shop No 6, Gaondevi Co-Operative Housing Society,
New Link Road, Andheri West, Mumbai – 400053
Phone: 9702223230
Mumbai
Noman Cool Services
Address: Shop No 5, Plot No C, Satnam Niwas,
Sector 20, Nerul, Navi Mumbai – 400706
Phone: 9930236876
Videocon Air Conditioner Extended Warranty
Videocon for the longer life of its products has been providing extended warranty policy. It can be availed for maximum 2 years and within 30 days from the date of purchase of the product.
If the difference between the manufactured date and purchased date is more than 9 months then extended warranty is not applicable.
For more information on extended warranty price, follow the URL https://videoconworld.com/warranty
About Videocon AC
Videocon air conditioners are equipped with advanced features like Vita air technology that makes air healthy and refreshing. Videocon has a wide range of Air Conditioners namely Wi-Fi AC, Split AC, Quantum AC and window AC. It provides a reliable service to its customers.
Split AC is one of the best products offered by the company with blue fin evaporator, adjustable louvers, full IMD, glossy panel, MPRI and vitamin C filter. The anti-bacterial filter helps to eliminate bacteria and filters dust particles. Bluefin evaporator protects the aluminum fins in the heat exchangers from corrosion. It also gives more durability, improved efficiency, and high energy savings. Its latest Wi-Fi air conditioners are a perfect blend of innovation and technology.
Frequently Asked Questions
What if I hear jerking noise from my Air Conditioner?
The reason you hear a jerking noise is because of the loose fan. Switch off the air conditioner in such case then Contact Videocon Customer Care.
What to do if Fan not working after power cut happens?
Energy save mode may be ON. The fan will not work in the energy save mode. So turn off save mode.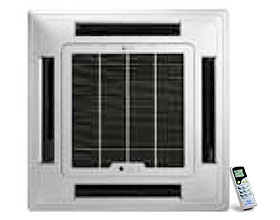 What happens if the vent lever is open?
Air Conditioner may not be active. So close the lever.
What not to do when using an Air Conditioner?
Please don't cut off the power cords. If they are damaged please contact the qualified electrician to change them.
Don't insert your hand or stick into the air intake or outlet vents.
Don't blow the wind to animals and plants directly. It can cause a bad influence on them.
Health problems can occur if you apply cold wind to the body directly, for a long time.
Do not splash water on the air conditioner. It can cause electric shock and malfunction.
Do not place a heater near the air conditioner.
Why there is noise when I started my AC for the first time after installation?
It is because of uneven leveling. Re-installation is required if the noise still persists.
For more information about Videocon AC price, Videocon AC models, visit the official website.
To know more about Videocon Air Conditioners follow social website links provided below.
Facebook: https://www.facebook.com/VIDEOCON
Twitter: https://twitter.com/Videocon_Group
YouTube: https://www.youtube.com/user/videoconCEHA