Tata Sky Customer Care, Head Office, Complaint Escalation Process
Contact Tata Sky India : Tata Sky operates 24/7 Customer care support in 13 languages, users who have any issues with regard to the product/service can call the company by choosing the region where you are from. For eg if you are from Bangalore you can contact the Southern Region customer care number.
Tata Sky India Customer Care:
Customers can contact the Tata Sky DTH Customer Care Toll Free numbers from their mobile and telephones.
Toll free Number: 1860 208 6633, 1860 120 6633, 1860 500 6633
Customer Care Number: 60006633 (Prefixing your City STD code before the number)
Email Id: help@tatasky.com
Website: https://www.tatasky.com
Note: If you are already an existing customer and contacting the Customer Service Centers with regard to your existing service then please keep your customer-id ready to get a faster response.
Tata Sky India Head Office Address :
Tata Sky Ltd.
3rd floor, C-1,
Wadia International Centre (Bombay Dyeing),
Pandurang Budhkar Marg,
Worli, Mumbai 400 025, India
Tata Sky Consumer Complaints, Escalation :
If you have any uncleared queries pending with regard to your DTH service and wish to register or write to the service provider, you can write a mail by clearly mentioning your Customer-id, Connection name, and issue that you are facing.
Tata Sky Nodal Officers Contact Details :
If the response from the service center representative is not satisfactory, then the consumers can escalate the issue by making their complaint reach the nodal officers. The contact details of few nodal officers are provided here and to get their contact detail in all parts of the country visit the company official website.
New Delhi   
Tata Sky Ltd, VSNL,
Mandi Road, Chattarpur,
New Delhi – 110030
Tel: 0129-6000177
Email:nodalofficer@tatasky.com
Sanjay Mittal
Mumbai
Tata Sky Ltd, Arena House,
1st Floor, Plot No. 103,
12th Road, MIDC, Andheri (E),
Mumbai: 400 093.
Tel: 020-60001771
Email:nodalofficer@tatasky.com
Amit Singh
Bangalore
Tata Sky Ltd
Kirloskar Business Park,
Block C, 1st Floor,Bellary Road,
Bangalore – 560024
Tel: 080-60001771
Email:nodalofficer@tatasky.com
Ashoka B
Hyderabad
Tata Sky Ltd., 4th Floor,
Domokonda House Bhupal Towers,
Somajiguga, Rajbhavan Road,
Hyderabad – 560 082
Tel: 040-60001771
Email: nodalofficer@tatasky.com
Contact Person: Kuppa Srinivasa Sastry
Chennai
Tata Sky Ltd., First Floor,
Symtec F-5 3rd phase,
Ekkaduthangal, Chennai, TN 600032
Tel: 044-60001771
Email:nodalofficer@tatasky.com
Contact Person:V Kalyan Kumar
Recharge & Online Login : www.mytatasky.com helps you to recharge your Tata Sky account online and also helps manage your packages, upgrading your base pack, make my pack, Tata Sky HD, ordering Showcase movies and even writing to Tata Sky in case of any queries/issues.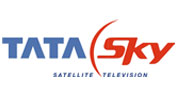 Tata Sky DTH – Started in 2004 the service provider is one of the leading DTH service providers in India which is brought to you by Tata Group in alliance with Star media group. They have become the front runners in the Direct to Home services space with in a short time by offering exciting services and packages. Tata Sky has revolutionized the DTH space with Interactive TV, HD & HD+ services and also won the Super Brand of the year for 2009-10.
Tata Sky DTH offers over 250 channels in digital quality and offers exciting features like , MPEG4, HD, Active Music, Active English, Active Learning, Active Stories, All India Radio, Movies on Demand and more in its products, users has options to choose from various Tata Sky packages offered.