Reliance Big TV/Digital TV Customer Care Numbers, Service&Support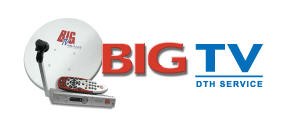 Reliance Big TV or Digital TV provides services with regard to new DTH connections, issues with existing connections, plans and recharges. Customers can contact below provided numbers to avail the services offered by Big TV.
Reliance BIG TV/Digital TV Customer Care Details
Reliance BIG TV offers 24/7 customer care support in multi languages through their call centres in India, their Customer care numbers are given below and can be contacted from your mobile or landline for various service related queries. Customers can also contact the Toll Free numbers through their mobile or telephones.
Toll Free Number: 1800-200-9001
All India (except North East states and J&K) : 1860 200 6666
Other North East States: 9863098888.
Jammu & Kashmir: 0191-2435017.
Assam : 9864098888.
Email: content.enquiry@reliancedigitaltv.com
Head Office Address
Address:
Reliance BIG TV Limited
Business Head Quarters, 4th Floor, B Wing
Dhirubhai Ambani Knowledge City
Navi Mumbai – 400710
Reliance Big TV/Digital TV Services
Reliance big TV offers DTH services which include monthly subscription packs for both south and non-south regions, regional packs, add on packs and long term offers. It offers you a world of interactive applications like iGames, iEnglish and iEducation. Choosing Digital TV enhances your experience of viewing TV and customers have no tension since the connection is reliable and consistent. It offers over 283 channels for customers to enjoy and provides complete entertainment. The company also provides customers to subscribe for a new connection via online.
Reliance Big TV/Digital TV online Recharge
Customers can pay their bills using credit or debit or net banking facility or else via cash-card and mobile app. You need to keep your smart card number when recharging your account. After recharge is completed you will receive a confirmation message indicating recharge is successful.
To recharge online visit reliance big TV website.
Reliance Big TV/Digital TV Email Support & Complaints
If you have any uncleared queries pending with regard to your DTH service and wish to register or write to the service provider, you can write a mail by clearly mentioning your Customer-id, Connection name, and issue that you are facing.
Customer Service E-mail:
You can also email your queries, comments or suggestions to them at customercare@bigtv.co.in.
Website: https://www.bigtv.co.in/home.html
About Reliance BIG TV
Reliance Big TV – Reliance BIG TV Direct to Home (DTH) service is brought to you by Reliance Anil Dhirubhai Ambani Group the leading diversified giant in India. Reliance launched its service with MPEG-4 technology which is the first DTH Company to claim so with many other features that have made a run-away hit in the market.
Reliance BIG TV service offers over 283 channels in digital quality and offers exciting features like Shopping at home, MPEG4, holiday planning on TV, HD-DVR and more in its products, also users have wide variety of packages to choose from the service provider.
To know more information on Big TV please visit website.
Note: All numbers provide above are not toll free and local charges are applicable.
Note: If you are already an existing customer and contacting the Customer service with regard to your existing service then please keep your customer-id ready to get a faster response.