Panasonic Mixer Grinder Customer Care Number, Toll Free Number, Email Id
Panasonic is the most popular brand in the world that design, manufactures and markets wide range of consumer and business goods like TV's, Mobile Phones, AC's, Printers, Phones, security systems, projectors, etc. Panasonic Mixer grinders are one of the best products offered by the company with many comfortable features like safety lid locking system, magic seal protection, samurai edge blades, flow breaker jars, heavy duty motors, unbreakable polycarbonate blender jar, circuit breaker protection etc. They are available in stylish designs and in different colors.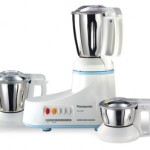 Panasonic Mixer Grinder India customer service number – Given below are the Panasonic Mixer Grinder India customer service number for the benefit of the customer to enquire about  Panasonic Mixer Grinder price,models and for other technical supports.
Panasonic Mixer Grinder Toll free number : 1800 108 1333 / 1860 425 1860 / 1800 103 1333
Panasonic Mixer Grinder helpline number : +91-124-6770400
Panasonic Mixer Grinder Fax Number: +91-124-4596625
Panasonic Mixer Grinder Email  id :  helpline@in.panasonic.com
Panasonic Mixer Grinder Website : http://panasonic.co.in/
For any other information Panasonic mixer grinder review,price users can visit Panasonic Mixer Grinder India website. If you are interested to provide the feedback or suggestion to the company kindly refer to the following link.