Alfaa Water Purifier Contact Number, Contact Address, Email Support & Website
Below provided are the customer service number to enquire about the Alfaa water purifiers for Residential, Industrial, Municipal and commercial purposes.
Alfaa Water Purifier Customer Care Details
Given below are the Customer Care Number of Alfaa Water Purifier including the Contact address, email support information and website details. Customers can call the service centre number for any queries they have with regard to the UV water purifiers and can also use the same number to register their complaints.
Contact Number : +91-22-2494-6004 / 6007
Email Support : To book a service request please email us on service@alfauv.com
Fax : +91-22-66612333
Sales : sales@alfauv.com
Website : https://www.alfaauv.com/
Alfaa UV Contact Address
1003A Peninsula Towers,
Peninsula Corporate Park,
Lower Parel, Mumbai 400013
India.
Phone : +91-22-66612300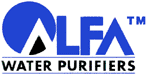 About Alfaa Water Purifier
Alfaa offers a wide range of U.V water purifiers for domestic, institutional & industrial use and in few regions they are the leaders in industrial U.V. The company's industrial models are widely used by Pepsi, 5- Star hotels, leading Pharmaceutical manufacturers such as Glaxo Smith Kline, Cipla, Strides, Himalaya, etc. They are known for their after sales support and the company follows the policy of preventive maintenance – 2 free services a year and service within 24 hours.
It is the first company to introduce stainless steel models and first to introduce microprocessor controlled water purifier and first company to offer UV solutions for disinfection of Waste Water.
The credentials of Alfaa are No 1 in Stainless Steel category of residential UV purifiers, No. 1 in industrial segment of UV, ISO 9001:2008 certified company, ISI marked products, Range to suit most requirements, Application specialists in UV and Dependable after sales service.
Awards and Certifications won by Alfaa
It has been awarded the prestigious UNESCO water digest award for best domestic UV water purifier.
Platina 5 stage water purifier has been conferred with the Design Excellence Award.
It is a member of water quality association of India (WQIA).
A member of Confederation of Indian Industry (CII).
It also holds membership in IGBC (Indian Green Building Council).
For more information about Residential, Industrial, Municipal and commercial water purifiers visit the official website of the company.