Jaipur Golden Transport – New delhi Address , Phone number , Website Details
Jaipur Golden Transport is one of the leading goods transport provider in India. It was established in the year 1948 in a small Kokha, Lahori Gate, Delhi. With strong hard work, commitment and dedication, the company expanded its operations across the country through its branch offices. Currently by 350 branch offices, it makes its services available to the customers located in any region. In order to remain sustainable in the industry, the company is aimed at providing the safer, faster and reliable services.
Jaipur Golden Transport is a Private Sector Organisation that offers services in Courier/ Logistics/ Warehouse / Trnsport/Pckg with Annual Total Turnover of 250-500 Crs and with Employee Strength of 1001-2500.
The Jaipur Golde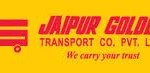 n Transport Company profile, Contact numbers, Contact Address, and services offered are furnished below.
Jaipur Golden Transport Head Office , Company Details, Financial Details
Jaipur Golden Transport Head Office Address :
4735 / 41 Roshanara Road
New delhi : 110007
Delhi ,India .
Jaipur Golden Transport Phone Number : (11) 011 3282 1813
Jaipur Golden Transport Website : www.jgtcl.com
Jaipur Golden Transport Financial Details :
No of Employees – 1001-2500
Turnover in Crs – 250-500 Crs
Sector- Private Sector