Samsung Microwave Oven India – Customer Service Number, Toll Free Number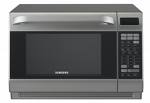 Samsung is one of the top leading brand in India that offers wide range of products with innovative solutions. Samsung Microwave Oven features many latest features that makes user feel comfortable and convenient. They are available in 3 different types namely Convection, grill and solo. Sensor Tech humidity sensor monitors helps in easy adjustment of cooking mode and the ceramic enamel cavity helps in durability of the oven.
Samsung Microwave oven India customer service numbers are mentioned below for the benefit of the customer to contact Samsung Microwave oven India service person regarding demo of the products or to enquire about process,model of Samsung Microwave oven convention , grill and other technical services.
Samsung Microwave Oven India Customer Care Number :
Contact Number: 30308282
Toll Free Number: 1800110011, 180030008282
The service will be available from monday to sunday between 9 am to 8 pm only.
For any other information regarding Samsung Microwave Oven models, review, convention users can visit  Samsung Microwave Oven India Website.