Aakash Tablet Customer Care Number, Email Support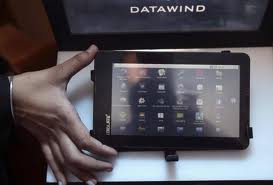 Aakash Tablet is currently the worlds most cheapest Tablet manufactured in India. Aakash Tablet launched in October 2011 is bought to you by Datawind Systems which is developed in sponsorship by the Indian government with the objective of bringing low cost computing to Schools and universities in India.
The device was developed as part of the country's aim to link 25,000 colleges and 400 universities in an e-learning program with the Government also committed to distribute the Tablets free of cost to the students in India.
Second version of this popular Tablet which is called as the Aakash 2 is also under development and is scheduled to be released into the market around the mid of 2012.
Aakash features an  7.1 inch touch screen with 256mb of internal memory loaded with graphics accelerator a 2gb SD card all bundled in a package that carries a weight of 350 grams. This comes loaded with Android 2.2 operating system that has access to the proprietary marketplace Getjar which is developed by DataWind.
Students can book online Tablet and enjoy working with it. To know the Aakash tablet booking status or to know more about Aakash tablet booking online for students in india kindly make use of the contact details provided below.
Aakash tablet Customer Care , Toll free number & Customer Service Number – 1800-180-2180.
Aakash Tablet India Customer Care Number: +91-11-40536600
If u have any complaints or queries related to  Aakash tablet Customer Service,want to post customer reviews, check on the prebooking status kindly log on to Aakash tablet website or reach out to the email support id given below
http://aakashtablet.org/
http://www.ubislate.com/
Email Support : If you are unable to contact the Customer Care Number or the Toll Free number of Aakash Tablet given above you can reach out the Email Support id listed here – supportin@datawind.com, and the company should revert back to you at the earliest.
As the company has posted a note to the customers on their website that they have been receiving extremely high number of call volume and is unable to respond to all the customers via the Aakash Tablet Customer Care Number and hence requests customers not to be unhappy abt the situation as they are working towards a solution alternatively till then you can write to the Email support id mentioned above.