Woodland Customer Care India, Email Support, Head Office Address
Woodland is a popular brand known for footwear, clothing and fashion accessories. It is a Canada based company which started its operations in the year 1992. The brand is presently owned by the Aero group and it has its strong presence across many countries including India, Sri Lanka, Bangladesh, China, Vietnam etc. It releases the products as per the latest fashion. By valuing the principles like quality, integrity and innovation, Woodland always stands first to introduce the new products. It holds the fully integrated manufacturing unit which follows environmental standards and also takes necessary precautions to recycle paper. The brand is also known for the quality as it uses the best quality material in the industry. Even some of the products of the company are assembled in 7 countries around the world that are designed by the high quality and experienced manufacturers.  Over the years for the successful product launch, the company has become popular as a sports brand.
Woodland Contact Details:
To reach the Woodland Customer Service team, customers are requested to make use of the below mentioned Phone Numbers and Email Address.
Toll free Number: 1.800.103.3445.
Email ID: care@woodlandworldwide.com
India Office Address:
2168, Gurudwara Road,
Opp. Post Office,
New Delhi 110005,
India.
Company Phone Number: 011-41546474
If you are facing any problem with the above numbers, kindly submit your query online by using the Online Email Option  provided in the given link. For reference here we are providing the snapshot of the Contact Form.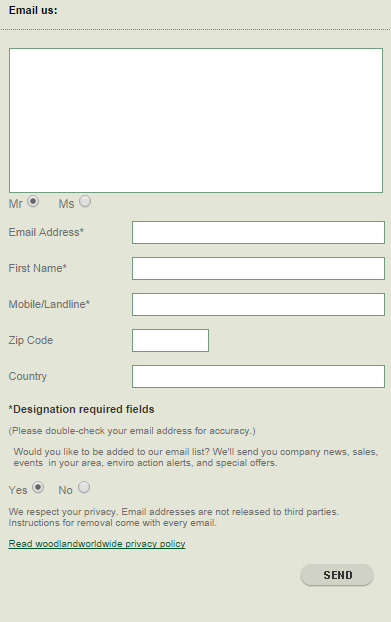 To explore the latest products released by the company or to find out the recent news, please visit the company official website.