Vijaya Bank Customer Care Number, Toll Free Number, Services, Complaint Escalation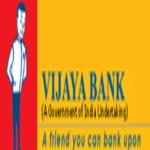 If you are having any problems, queries regarding Vijaya Bank banking services then you can contact the Vijaya Bank Customer Care Support and Service.
Vijaya Bank India Customer Service
Toll free No : 1800 425 5885/18004259992 / 1800 425 4066
For Balance Enquiry, dial 1800 103 5525
For Mini Statement, dial 1800 103 5535
Website : https://www.vijayabank.com/
Vijaya Bank India Head Office Address
Vijaya Bank,
International Banking Division,
Head Office, 41/2, Trinity Circle
M.G. Road, Bangalore – 560001
Tel : 91 80 25584066
Ext : 348
Fax : 91 80 25584142
Vijaya Bank Customer Complaints / Escalation
Vijaya Bank provides the text message feedback facility for the customers to address their concerns.
HPY  Y to 09844213910 if customer is happy
HPY  N to 09844213910 if customer is unhappy
Vijaya Bank has established an exclusive Grievance Redressal Cell at Head Office to handle the complaints received from the customers. The General Manger acts as a Nodal Officer to and also leads all the Regional Managers of 24 regions of the bank. The customers can directly contact the local branch manager without any prior appointment to address grievances. If the response given by the branch manager does not solve the issues, the complaint can be addressed to the Bank's Nodal Officer.
Nodal Officer Contact Details
The Nodal Officer/ Chief Grievance Redressal Officer,
Vijaya Bank Customer Comfort Cell
Head Office, 41/2, M. G. Road
Bangalore – 560 001
Tel : 080 – 25584066 Ext 174,
Fax : 080 – 25580951,
Email : gmpublicgrievances@VIJAYABANK.co.in
Vijaya Bank India Services
Vijaya Bank offers services such as credit cards, merchant banking, hire purchase and leasing, and electronic remittance services. The customers can contact the Vijaya bank customer service team for enquiries regarding Vijaya Bank Home, Vehicle & Personal Loans, Net Banking, Vijaya Bank Credit / Debit Card and any other services offered by the bank.
Housing Loan
The housing loans are provided for Purchase / Construction of House/Flat, Renovation / Improvement of House/Flat, Purchase of Site/Plot and Construction of House and takeover of housing loans from other Banks/ Financial institutions.
The consumers applying for housing loans need to be aged between 21 and 65 years and the loan has to be paid within the time the applied person ages 75 years.
Personal loan
Personal Loans are provided for meeting short term credit needs employees within the age limit of 22 to 55 years. Generally Spouse is taken as a guarantor unless either of them is not alive or legally separated from each other or suitable third party with good net worth acceptable to the bank.
Vehicle loan
Vehicle loans are released for the purchase of new or second hand cars / two Wheelers for the employees aging between 21 to 70 years.
For more details, contact Vijaya Bank customer care through the contact details provided below.
About Vijaya Bank
Vijaya Bank is a medium-sized Nationalized Public Sector Bank e banks in India present in more than 850 cities and towns with over 1300 branches. The history of the bank dates back to 1931 when it was established by Shri. Attavar Balakrishna Shetty. The Bank has chosen Finacle from Infosys as its Centralized Banking Solution and its IT Department is handled by Wipro. It is one of the few banks in the country to take up the membership of VISA International and MasterCard International.
For more information on Vijaya Bank please visit the official website of the bank.