Symphony Aircoolers India Customer Care, Head Office, Service Centers & Warranty Info
Contact Symphony Aircoolers India – If customer finds any problems in  Symphony aircooler like overflow, leakage or if aircooler produces insufficient cooling or any other problem arises in Symphony aircoolers, then the customers can call the Symphony air cooler India service number which is provided below.
Symphony Aircoolers Customer Care India :
Symphony Aircooler Helpline Number :  +91-79-66211111
Fax number : +91-79-66211140
Customer Support Email id : services@symphonycomfort.com
Website : www.symphonycomfort.com
Symphony Aircoolers Head Office India :
Symphony House
FP12-TP50,Bodakdev,
Off SG Highway,
Ahmedabad-380054,
India.
For any other information regarding  Symphony Aircoolers prices, Symphony Aircooler dealers ,service centre details customers can view Symphony Aircoolers India Website.
Symphony Aircoolers India Service Center Contact:
Symphony provides after-sale services to the customers by providing the service booking facility to the users. Its robust customer service network comprising executives, area service supervisors attends to the consumer calls immediately. The service can be booked by contacting the company and providing Pincode, mobile number and serial number through the contact details mentioned below.
Service Booking Number: 07930130111
Symphony Aircoolers Warranty India
Symphony offers 1 year limited period warranty on all the appliances under which products with manufacturing defects are repaired or replaced for free of cost.
Warranty Registration: https://www.symphonylimited.com/service/warranty-registration.aspx
Queries / Complaint
Submit the queries or complaints in the link provided below to get solutions to the problems faced regarding the usage or service of Symphony Aircoolers.
Queries / Complaint Form: https://www.symphonylimited.com/products/inquiry.aspx
Symphony Aircoolers India Products and Services:
It manufactures products like domestic air coolers, industrial air coolers, and water heaters. Symphony has its operations in about 60 countries.Symphony has a network of well trained and experienced team in 50 localities; over 500 authorized service providers present in more than 350 locations in India.
The company is committed to deliver the best in class after-sales service to the customers with Symphony Namaste 24 x 7 services. In an event, if any, that the need for after-sales service arises, Symphony is equipped with web-based ERP systems to facilitate marketing team, distribution network and after-sales force to delight customers with innovative products and impeccable service. Moreover, the service centers are reinforced with spare parts for the company appliance to get the customer complaint get resolved in the shortest time.
About Symphony Aircoolers:
Symphony is a Consumer Durables Company founded by Achal Bakeri in 1988 with headquarters based in Ahmedabad. The comp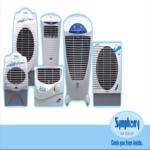 any is a world leader in the manufacture of Evaporative Aircoolers focusing on innovative and eco-friendly designs to confront climatic changes. Symphony has customers in more than 60 countries across the world supplying wide range of coolers with engineering and design innovation to improve energy conservation, unique styling features and customer-centric designs.  It is also certified by the Guinness World Record Ltd. for manufacturing the world's largest functioning air cooler.
Awards:
Best Innovative Company Award – 2015
Bagged Mark Award in Home Appliances category for year 2014
Best Presented Annual Report Award for Manufacturing Sector
Won India Design Mark for best design of its Diet 22i air cooler
Awarded the Guinness World Record for creating the world's largest functioning air cooler in 2000
Facebook Page URL : https://www.facebook.com/Symphonylimited