Lilavati Hospital Customer Care, Contacts of Various Departments, Mumbai Address, Services
Contact Lilavati hospital – To reach lilavathy hospital, to know about the appointments, doctors schedule and for more details related to Lilavati hospital ivf specialty and emergencies contact the following Lilavati hospital contact number. 
Lilavati Hospital India Customer Care :
Lilavati Hospital Customer Support team helps people to reach Lilavati hospital, to know about the appointments, doctors' schedule and other service details related to Lilavati hospital and emergencies.
Helpline Number : 91 22 2675 1000, 91 22 2656 8000
Emergency Number : 2656 8063 / 2656 8064
Email Id: lilaweb@lilavatihospital.com
Hospital Fax: 022 – 2640 7655 / 2640 5119
Website: www.lilavatihospital.com
Telephone Numbers of Various Departments in Lilavati Hospitals :
Emergency / Casualty: 2656 8063 / 2656 8064
Ambulance: 98197 78700
Hospital Board Line: 91 22 2675 1000 / 91 22 2656 8000
Admission Department: 2656 8080 / 2656 8081 / 2656 8082
TPA Cell:2656 8089
Billing – Inpatient: 2675 1586 / 2675 1585
Billing – OPD: 2656 8052 / 2656 8053
Appointment – OPD: 2675 1628 / 2675 1629
Blood Bank: 2656 8214 / 2656 8215
Health Check-up Department: 2656 8354 / 2656 8355
Report Dispatch Counter: 2675 1620
MRI Department: 2656 8066
X-Ray, Sonography Department: 2656 8031
CT Scan Department: 2656 8044
Lilavati Hospital Mumbai Address :
Address: A – 791,
Bandra Reclamation,
Bandra West,
Mumbai – 400 050,
Maharashtra,  India.
For services like booking appointments and checking doctor's schedule, contact Lilavati hospital customer care or alternately visit the Lilavati hospital website.
Facilities provided to the Visitors:
Visitor Dining : Lilavati Hospitals provide good food facility to the visitors through its Cafeteria open from 7:30am to 9:30pm. The lunch and dinner timings are mentioned below;
Lunch: 12:30pm to 02:30pm
Dinner: 07:30pm to 09:30pm
Telephone facility in the patient room
Bank : Union bank extension counter is located at the Ground Floor of the hospital to make the     transactions more secure and simpler.
ATM : An ATM is located near Gate no 2 of the hospital, offering a variety of banking services.
Parking : The hospital provides MCGM Pay & Park facility available nearby.
Lilavati Hospital Infrastructure :
The hospital has the best equipment for cardiac imaging, general surgery, diagnostic services, neurosciences, pediatrics, mental health and behavioral sciences, neuro-ophthalmology, interventional cardiology, gynecology and obstetrics, rehabilitative services, scans, nephrology, orthopedics, pediatrics ophthalmology, pulmonology, maternity services, cardiac pacing and electrophysiology and more.
Lilavati Hospital Services:
The Services provided by Lilavati Hospital are Medical, Surgical, Out Patient, Critical Care, Emergency / Trauma, Day Care, Dialysis Centre, Physiotherapy, Diagnostics, Blood Bank, Pharmacy / Chemist and Ambulance. The hospital has the departments in the fields of Cardiology, Dermatology, Endocrinology, Gastroenterology, Nephrology, Neurology, Oncology, Pediatrics, Psychiatry, Respiratory, Rheumatology.
About Lilavati Hospital :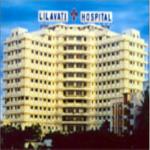 Lilavati Hospital and Research Centre is located in Bandra, Mumbai. It was established in 1978 with a mission to offer the best treatments. With a motto of "More than Health care, human Care" it has developed as one of the top rated treatment and research institute with high degree of excellence. It holds best facilities that meet the international standards and it also received several esteem awards and accreditation.
Lilavati Hospital is a frontier multi-specialty tertiary care hospital of India recognized internationally as the center of Medical eminence and become one of the most people-trusted hospitals in India. The organization has deep roots in the fields of medical expertise, research, education and charitable endeavors serving patients from India and other countries as well. Lilavati has accredited with NABH (National Accreditation Board for Hospitals & Healthcare) for its excellence in medication using latest technological advancements.
Lilavati Hospital Social Network : Follow Lilavati hospital on social media sites to get recent updates from it.
Facebook: https://www.facebook.com/LilavatiHospitalResearchCentre
LinkedIn: https://www.linkedin.com/company/lilavati-hospital-and-research-centre