Dremel Contact Number, Customer Care Number
Dremel is specialized in providing wide range of tool systems. It is a popular international brand with strong presence in India. As per the international standards, the company manufactures the best quality tools which are categorized as Rotary, Trio, Multi-max and Saw max. These products are used in wide range of applications like sanding, cutting, routing, scraping, grinding etc. Dremel tools are marketed across different parts of the country and mostly they are available in malls like Home town, etc and also at hardware shops. They can be purchased in online in e-commerce shopping site etc. It is the prominent hardware tool manufacturing company which strives for the complete range of customer satisfaction by its relevant products.
Dremel Customer Service Number
If you have any queries related to the company products, kindly make use of the below mentioned Contact Information to get in touch with the Customer Care Team.
Toll Free Number: 1800 425 8665
For more detailed information about the company products and services, customers are requested to visit the company official website. Interested customers can make use of the Contact Form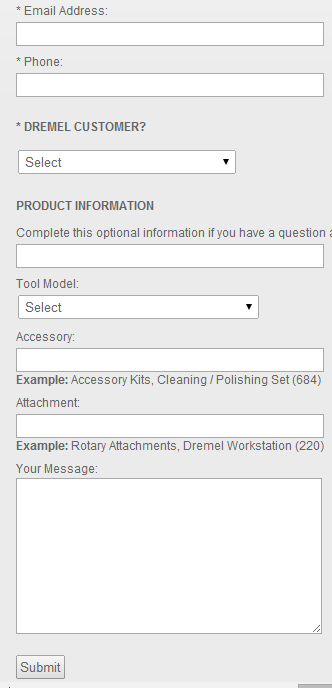 provided by the company. To avail this service, please refer to the provided link and for reference here we are providing the snapshot of the Contact Form.