Apollo Hospitals Emergency Services and Contact Number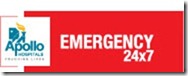 Apollo Hospital Emergency Number: Apollo Hospitals is a pioneer of modern day health care and emergency care systems in India. It has set up the 'National Network of Emergency Services helpline" to provide 24-hour emergency and trauma care to meet all medical and surgical emergencies.
Apollo Emergency Network: The National Network of Emergency Services is operational across 9 cities in India (Chennai, Hyderabad, Delhi, Ahmedabad, Kolkata, Pune, Bilaspur, Kakinada and Bangalore). The system comprises 22 emergency rooms, 60 ambulances and over 500 personnel. The network is expanding rapidly and is expected to cover all the major towns and cities in the country soon.
Air Ambulance : Apollo has even started Air Ambulance services which are very few in India as Saving time is the first step in saving lives. Apollo is equipping each of its hospitals with emergency air ambulance services. The Kolkata and Colombo hospitals have roof helipads. Our Delhi and Hyderabad hospitals have landing facilities.
Apollo Emergency Number: 1066 (This can be dialed from all over India and the call will be patched to the nearest Apollo hospital located in your place). This is a 24X7 number so that users can call at any time.

Website:  https://www.apolloemergency.com/
Apollo Hospitals Addresses
Listed below are some of the addresses of Apollo hospitals in India. In case of emergency please rush to the nearest Apollo hospital.
Bangalore
Apollo Hospital,
9th Main Rd, Jayanagar 3rd Block,
Jaya Nagar East,
Jayanagar,
Bengaluru,
Karnataka 560011
Chennai
Apollo Hospital,
No. 134, Mint Street,
Opposite Ramar Temple,
Sowcarpet, Chennai,
Tamil Nadu 600079
Phone: 044 2529 6080
Hyderabad
Address:
Sri Sai Arcade,
Opp Sai Baba Temple,
Bhagyanagar Colony,
Kukatpally, Hyderabad,
Telangana 500072
Phone:040 2316 0039
Mumbai
Address:
Plot No.13, OPP Uran Road,
Sector 23,
CBD Belapur,
Navi Mumbai,
Maharashtra 400614
Phone:022 2752 2223
New Delhi
Address:
Sarita Vihar,
Mathura Road,
New Delhi,
Delhi 110076
Phone:011 2692 5858
About Apollo Hospitals
Started in 1983, with over 8,717 beds across 54 hospitals in India and overseas the group is the largest private corporate group of hospitals in Asia. Apollo Hospitals consists of national & international chain of hospitals, pharmacies, diagnostic centres, health insurance, clinical research & medical BPO services. Apollo Hospitals is the first to promote the specialty of emergency medicine across all of its hospitals.
Apollo hospitals also provide various insurance plans for patients under Apollo Munich Insurance. Health Insurance Plans, travel Insurance Plans and personal Accident Insurance.It covers two types of plans, standard and premium under personal accident. Under standard plan the total sum issued is between 1-50 lacs whereas for premium plan it is 5 lacs to 5 crores.
For further information about Apollo emergency services, visit Apollo Hospitals website.
If you are in an Emergency please call the Apollo Emergency Care helpline listed above.