Electrolux is popular brand for wide range of electronic products like refrigerators, air conditioners, microwave ovens, dryers and many more built in appliances. With its experience over the years it has been offering latest technological products along with best quality. Electrolux refrigerators are available in models like side-by-side, frost free and direct cool models. It is the first company to launch frost free refrigerator with smart LED light and digital clock with alarm. It also includes toughened glass shelves, quick free zone, humidity controller, antifungal removable gasket, E line handle system, door alarm and many more.
Electrolux Refrigerator Customer Care Phone Number -The customers can refer the Electrolux Refrigerator Contact Numbers mentioned below and make use of the services offered by the Electrolux Company. 
Electrolux Refrigerator Toll Free Number : 1 800 419 40 40 (Landline/Mobile Toll free)
Electrolux Customer Support Phone Number: 39 40 40 40 (Prefix the STD code of the state capital)
Electrolux Refrigerator SMS Service : SMS to 53030 with 'SVC' in the subject.
For more information about Electrolux refrigerator prices , Electrolux refrigerator price list , Electrolux refrigerator models , visit the website : www.electrolux.in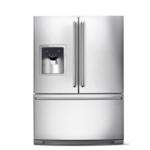 Have a Complaint to post on this organization!!! Simply raise it at our Customer Care forums!
If you feel that if there is any missing information or anything which has been changed over the period of time or any wrong Information, please add/share the updated information using the comment form below. We would be really thankful if you can help improve the information present on this page by leaving your comments.