Canon Printer Customer Service number, Support & Driver Downloads, Warranty
Customers can make use of the below  number to know information about their Canon printer for any issues regarding printer cartridges , instructions , installations, driver downloads.
Canon Printer Customer Care Details
Canon printer Customer Support can be used by the customers for registering complaints.
Canon Laser printer customer service phone number : 39010101. (Prefix your city code while dialing from your Mobile/landline).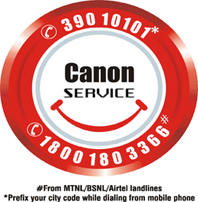 Toll Free Number : 1800 180 3366.
Operating hours of the service center is from  Monday to Friday and timing is 8:30am – 5:30pm.
Website :  http://www.canon.co.in/home
Canon India Corporate Office Address 
2nd Floor, Tower A & B,
Cyber Greens, DLF Phase III,
Gurgaon – 122002
Telephone : 0124-4160000
Fax : 0124-4160011.
Printer Support & Downloads – Users who are having any issues with their printers and looking for support can look at the printer support site for information. If you need any printer drivers you can download from the website as well by selecting your printer type and model numbers.
Canon  Printer Range India  – There are wide variety of printers available from one of the best imaging companies in the world ranging form Business multi-function devices, Multi function printers, Single function printers, Large format printers, Tube and plate printers.
Canon India Warranty Registration
If you have purchased a new printer please register the product at the website for warranty.
Product will have a standard two year warranty from the date of product purchase.
If a Customer transfers the ownership of product(s) to another end user, the remainder of the warranty period may also transfer to the new owner.
Canon provides two types of warranty. One is on-site warranty and the other is carry-in warranty.
On- site warranty is provided at the customer's location. It is limited to the location which is within the municipal limit of Authorized Service Centre.
If the customer's location is beyond the municipal limit of the authorized service centre then the customer needs to carry the product too the service centre at its own cost.
Warranty is provided only on product(s) which are purchased from Canon India Private Limited Authorized Dealer / Reseller.
The warranty is limited only to the manufacturing /workmanship defects in the Product(s).
Frequently Asked Questions
Why would the printhead have problems?
After hours of printing, the heating elements may fail after being turned on and off hundreds of thousands of times. The printhead can also become clogged or blocked with paper debris or solidified ink. If your print quality is poor or your printer will not print at all, it may be time to change your printhead.
How to troubleshoot my printer?
Please contact customer care to know about troubleshooting the printer.
Where can I buy a canon printer?
You can buy it from any authorized source online. Or else find a sales location near to your location that sells the product. We recommend you to buy from canon authorized dealers.
To know more about canon printers, please visit Face book and Twitter.
Face book: https://www.facebook.com/Canon-Printers-242609942438609/
Twitter: https://twitter.com/canon_india
YouTube: https://www.youtube.com/user/canonindiapvtltd
Users who are searching for Canon Printer Drivers, Software, Models and Pricing information can visit the Canon India Website.