Canon Printer Customer Service number, Support & Driver Downloads
Canon Printer Customer Care Number:
Customers can make use of the below  number to know information about their Canon printer for any issues regarding printer cartridges , instructions , installations, driver downloads.
Canon  Printer Range India  – There are wide variety of printers available from one of the best imaging companies in the world ranging form Business multi-function devices, Multi function printers, Single function printers, Large format printers, Tube and plate printers.
Canon printer Customer Support can be used by the customers for registering complaints.
Canon Laser Printer Customer Service Number: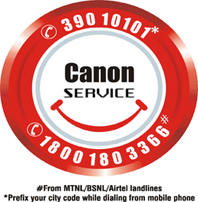 Canon Laser printer customer service phone number : 39010101. (Prefix your city code while dialing from your Mobile/landline).
Toll Free Number : 1800 180 3366.
Operating hours of the service center is from  Monday to Friday and timing is 8:30am – 5:30pm.
Users who are searching for Canon Printer Drivers, Software, Models and Pricing information can visit the Canon India Website.
Canon India Corporate Office Address :
2nd Floor, Tower A & B,
Cyber Greens, DLF Phase III,
Gurgaon – 122002
Telephone : 0124-4160000
Fax : 0124-4160011.
Where to buy Canon Printers in India: If you are looking to buy the printers, then please follow this link.
Printer Support & Downloads – Users who are having any issues with their printers and looking for support can look at the printer support site for information. If you need any printer drivers you can download from the website as well by selecting your printer type and model numbers.
Warranty Registration: If you have purchased a new printer pls register the product at the website for warranty.