BSNL Customer Care, Customer Service, Toll Free Number
Customer Care BSNL: Listed below are the customer care details of Bharat Sanchar Nigam Ltd (BSNL), including the toll free numbers, email-id's and address for contacting directly. For any queries/issues with regard to taking a new connection, cancellation of existing connection, telephone, broadband or any other  BSNL services users can make use of the relevant information listed below. Besides contact details the page also offers information and links on BSNL products.
BSNL Customer Care Toll Free Numbers
Internet
Dataone Broadband Customer Care :  '1800-424-1600′
Sancharnet Help Desk  Service : '1957′
CellOne all India Helpline :  '1800 180 1503′ or '1503′
BSNL broadband helpline : 1504 or 1800-345-1504.
BSNL Mobile, Landline Customer Care Numbers
Landline Customer Service Number : 1500 or 1800 345 1500.
Mobile Customer Service Number : 1503 or 1800 180 1503.
BSNL WLL : 1500
BSNL Web Hosting : 1957.
BSNL Web Conferencing:
Toll Free : 1800-111-233
Ph No : 011-45092300 / 2311
E-mail : support@cepl.in
BSNL Complaint Registration
Users can book their Complaints by dialing "198″. This toll free service is available in all the landlines. Any complaints which are not resolved can be taken to the next level by addressing the Grievances to "12727″(for Circle Office) or "1095″ (for District Office).
Pay BSNL Bills Online
Users who are looking to pay their mobile or landline bills online can make use of the online payment service offered by BSNL.  The service allows you to check previous bill details, download duplicate bills and make payments for the latest bills. To access the online bill pay service click here.
About BSNL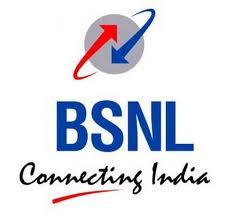 Bharat Sanchar Nigam Limited headquartered in Delhi is one of the oldest & largest cellular service provders in India. The company has over 100 million mobile subscribers, broadband customer base of 3.76 Million and is ranked as world's 7th largest Telecommunications Company.
BSNL offers wide range of services ranging mobile,broadband to other services for the organizations like Epabx, VPN, Leased lines etc. The company has also started its 3G services in 290 cities and is the largest 3g service providers in India. More information regarding BSNL can be found at their website: http://www.bsnl.co.in.