Van Heusen Customer Care, Stores, Online Shopping in India
Van Heusen Customer Helpline Number and Customer Service is provided below for enquiries regarding Van Heusen Apparels and offers provided by the company.
Van Heusen India Customer care :
Van Heusen Customer Care Number is provided below to the customers who want to have a talk on any of the van Heusen Apparels. Following is the customer care number or toll free number of Van Heusen India.
Van Heusen Toll free Number India : 1800 425 3050.
Van Heusen Customer Service Email Id:
Customers can also mail to the Van Heusen Customer Service email id regarding any complaints/ issues on the Van Heusen Apparels. Following is the email id provided  for any customer related enquirers Email Support: customerservice@madura.adityabirla.com.
If you are looking for any of the other information or any of the Van Heusen Apparels, latest collection you can also visit the Website and also find out the news on latest fashion trend.
Van Heusen India Website: https://www.vanheusenindia.com; www.adityabirlanuvo.com/Van_Heusen
Global Website: http://vanheusen.com/
Van Heusen Stores in India : Following are the Van Heusen sales stores in the metropolitan cities in India. To locate all the stores of Van Heusen in India, visit the company official website and open store locator present in the website portfolio.
Van Heusen Exclusive Store – Hyderabad
No 86/1, Ground Floor/ Mezzanine Floor,
Road No. 2, Banjara Hills,
Hyderabad – 500034
Tel: 040-42301308
Van Heusen Exclusive Store – New Delhi
No. 8 & 9, West Gate Mall,
Ground Floor, District Center,
Shivaji Palace, Raja Garden,
New Delhi – 110027
Tel:011-45508033
Van Heusen Exclusive Store – Bangalore
No 194, Brigade Road,
Bangalore – 560001
Tel:080-41121772
Van Heusen Exclusive Store – Mumbai
No. F – 35, 1st Floor, Inorbit Mall,
Sector No. 30-a, Vashi,
Mumbai – 400705
Tel: 022-27810938
Van Heusen Exclusive Store – Kolkata
No. S 129, 1st Floor, South City Mall,
Municipal No 375, Prince Anwar Shah Road,
Kolkata – 700068
Tel: 033-40072201
Van Heusen Exclusive Store – Chennai
Address: No. GF009, Ampa Skywalk,
Poonamallee High Road, No. 1,
Nelson Manickam Road, Chennai,
Tamil Nadu 600029
Phone: 044 4330 0394
Operating Hours: 10:00 AM – 8:00 PM
Van Heusen Online Shopping :
Van Heusen offers free shipping to the apparels ordered online with Security to payment options like Cash on Delivery, Debit Card, Credit Card and Net Banking. It also provides a easy return policy with-in 30 days after the date of purchase. To avail Van Heusen online shopping benefits, customers have to visit the company official website provided above.  In case of returns, credit voucher will be issued within 2-3 business days of receiving the product and prepaid refund will be initiated within 2 working days of receiving the product. If you have any issues with placing the orders, visit the Van Heusen Customer Support through the contact details mentioned above
About Van Heusen:
Van Heusen is one famous brand in apparels for men and women which gives unique look to the people in the present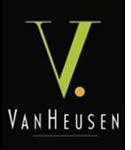 fashion world. The brand offers all aspects of individuals clothing needs like corporate wear, casual wear, party wear, ceremonial wear giving the customers a completely elegant look. Launched in India in the year 1990 and over the last two decades the clothing of men and women have undergone many stages of evolution. Van Heusen also offers points to the customers when ever they purchase. Customers can use these points on their next purchase and get discounts on the products.
Social Media URLs : Follow Van Heusen on the social media sites and YouTube through the links provided below to get updated with the latest information from the company related to the new products and offers.
Facebook: https://www.facebook.com/VanHeusen
Twitter : https://twitter.com/vanheusen
LinkedIn : https://www.linkedin.com/company/van-heusen
YouTube : https://www.youtube.com/user/vanheusenindia