Prasad imax theatre Hyderabad – contact number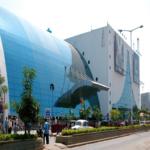 Prasadz IMAX® Theatre: This facility houses South India's first IMAX theatre called Prasad IMAX Theatre which is located in the heart of the Hyderabad city on the banks of Hussain Sagar Lake, Off NTR Gardens and spanning an area of 23.5 million sq. ft.
Highlights of this Theatre in Hyderabad
PRASADS IMAX screen is the world's largest 3D IMAX screen and has attracted over over 90 Million visitors till date.
PRASADS IMAX Theatre was rated No 1 in the world for the highest attendance for Spiderman 2 & 3 and Harry Potter 4  movies and for the Avatar 3D movie over 3.5 lakh people have enjoyed the movie.
Prasad imax theatre Hyderabad Customer Care Number is given below for users who would need more information regarding online tickets booking , show timings , corporate booking and movies details.
Prasad imax theatre Hyderabad Contact Details
Address: NTR Gardens
Tank Bund Rd, Hyderabad, Andhra Pradesh 500063, India
Phone number : 91 – 40 – 23448888
Email : info@prasadz.com
Corporate booking number : 91 – 40 – 23448888 / Tele booking number : 39895050(Open between 10.00 AM to 10.00 PM)
Corporate booking email : moin@prasadz.com
Prasad imax theatre Hyderabad sales and marketing : kishan@prasadz.com
Prasad imax Website :www.prasadz.com.
Booking can be also made at other online websites which offers tickets in advance. http://in.bookmyshow.com/cinemas/Prasads–IMAX-Screen/PRHY