Bajaj Electric Rice Cooker Customer Care & Service Centres
Bajaj Electric Rice Cooker Customer Care Number & Service Centers Bajaj Electric Cookers – There are a wide variety of Automatic electric cookers range that comes from one of the leading home appliances company in India which is Bajaj Electricals. It is one of the most trusted brands in the category of home appliances and offers rice cookers which differ in the capacity. The Teflon coated international design will offer the product to look more elegant. The auto cooking and auto cut off features help in saving the electricity. Along with all these comfortable features, the products also come with the warranty period of 2 years. With the perfect mixture of the design and quality of the products, the company had gained the enviable recognition in the industry.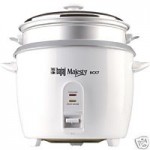 Electric Cookers Models from Bajaj
RCX2 –  Price – Rs. 1189
Majesty RCX21 Automatic Electric Cooker – Price – Rs. 4700
RCX3 – Price – Rs.1444
RCX5 – Price – Rs.1699
RCX11 – Price – Rs.2039
Majesty RCX21 – Price – Rs.2249
For Latest models of Electric Cookers from Bajaj, pls refer to the following website.
Bajaj Electric Rice Cooker Customer Care
For inquiries regarding Bajaj electric rice cooker, customers can use the Bajaj Electricals Customer service numbers given below.
Customer Care Number: 022-41280000, 022 – 22043780, 22043733
Fax Number: 022 – 22828250
Toll-Free Number: 1800 102 5963 / 1800 22 2252 / 1860 180 6722
Email Id: consumercare@bajajelectricals.com
Bajaj Electric Rice Cooker Service Centers India
Mumbai
Modern Electronics & Electrical
Address: Shop No 6, Nandanvan Apartment,
Murbad Road, Kalyan City, Thane – 421301
Phone: 9322110161
Mumbai
Reliance Resq Ltd
Address: 2Nd Floor, Maithili Signet, Plot No 39/4,
Vashi, Navi Mumbai – 400703
Phone: 022-41232869
Mumbai
Golden Home And Appliances
Address: Shop No-1, Kokhle Road,
Thane West, Thane – 400602
Phone: 7710069768
Mumbai
Mansi Home Appliances
Address: Shop No 4, Rizvi Chambers, Jain Mandir Road,
Off Hill Road, Bandra West, Mumbai – 400050
Phone: 9867242495
Mumbai
Milan Appliances
Address: Plot No 17 A, Blue Star Showroom,
S V Road, Andheri West, Mumbai – 400058
Phone: 9029017177
Bangalore
M M Electronics & Electricals
Address: #16, 10Th Cross Road,
Vasanth Nagar, Bangalore – 560001
Phone: 9620132101
Bangalore
Azaan Electrical
Address: No-05, Harinagar Cross,
Konanakunte, Bangalore – 560062
Phone: 9738455437
Chennai
Natesh Cooler
Address: No 64, Kodambakkam High Road,
T Nagar, Chennai – 600017
Phone: 9094090000
Chennai
Mercury Electrical & Electronics
Address: Shop No:10, Nehru Nedunchalai,
Perungalathur, Chennai – 600063
Phone: 9841520082
Chennai
Kpr Service Centre
Address: No 14/63, Vinayagapuram 1St Street,
Arumbakkam, Chennai – 600106
Phone: 7418212443
Chennai
Lavanya Electrical
Address: 33, North Mada Street,
Tiruvottiyur, Chennai – 600019
Phone: 9382290989
New Delhi
Mahadev Service Center
Address: Office, Bajghera Village,
Gurgaon – 122017
Phone: 9711229956
New Delhi
Vijay Sales
Address: 3384, Desh Bandhu Gupta Road,
Karol Bagh, Delhi – 110005
Phone: 011-66660100
New Delhi
Manocha Electricals
Address: Shop No-16 A /20, Wea, Ajmal Khan Road,
Karol Bagh, Delhi – 110005
Phone: 011-25758198
New Delhi
Global Power Link
Address: 207, Dilshad Garden,
Delhi – 110095
Phone: 011-43029264
Hyderabad
Repair Baadshah
Address: House No 8-3-191/147/3, B/42, Vengal Rao Nagar,
Madhura Nagar, Hyderabad – 500038
Phone: 040-40257482
Hyderabad
Adithya Home Care
Address: 29-492/3/21, Kakatiya Nagar Entrance,
Neredmet, Hyderabad – 500056
Phone: 9247162610
Hyderabad
Srujana Enterprises
Address: Plot No 1-9-324/2/2, Main Road,
Vidya Nagar, Hyderabad – 500044
Phone: 9848289303
Hyderabad
Vijaya Technologies
Address: H.No 12-6-2/174, Vivek Nagar,
Kukatpally, Hyderabad – 500072
Phone: 040 20046677
Hyderabad
Sri Sai Srinivasa Service Centre
Address: Shop No 2-50, Ground Floor, Puppalaguda,
Manikonda, Hyderabad – 500089
Phone: 9100876411
Kolkata
Appli Care
Address: 5, 1St Floor, Sun Yat Sen Street,
Bowbazar, Kolkata – 700012
Phone: 9831438250
Kolkata
Balaji Service Centre
Address: P 103, Shop No 50, Block A,
Kalindi Vatika Market, Laketown, Kolkata – 700089
Phone: 9163836551
Kolkata
S Ganguly
Address: 85B Simla Street,
Kolkata – 700006
Phone: 9831778322
Kolkata
Star Electricals
Address: 11, 2Nd Floor, Pollock Street,
Kolkata – 700001
Phone: 9830519969
For further information about the company products, I request you to visit the Bajaj Electricals website: https://www.bajajelectricals.com/