Bajaj Electric Rice Cooker Customer Care & Customer Service Number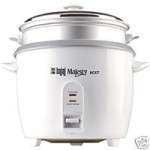 Bajaj Electric Cookers – There are wide variety of Automatic electric cookers range that comes from one of the leading home appliances company in India which is Bajaj electricals. It is one of the most trusted brand under the category of home appliances and offers rice cookers which differ in the capacity. The Teflon coated international design will offer the product to look more elegant. The auto cooking and auto cut off features helps in saving the electricity. Along with all these comfortable features, the products also come with the warranty period of 2 years. With the perfect mixture of the design and quality in the products, the company had gained the enviable recognition in the industry.
Electric Cookers Models from Bajaj
RCX2 –  Price – Rs. 1189
Majesty RCX21 Automatic Electric Cooker – Price – Rs. 4700
RCX3 – Price – Rs.1444
RCX5 – Price – Rs.1699
RCX6 – Price – Rs.1869
RCX11 – Price – Rs.2039
Majesty RCX21 – Price – Rs.2249
For Latest models of Electric Cookers from Bajaj, pls refer to the following website.
Bajaj Electric rice cooker Customer care Number – For inquiries regarding Bajaj electric rice cooker, customers can use the Bajaj electricals customer service numbers given below.
Bajaj Electricals service centre number : 022 – 22043780, 22043733
Fax : 022 – 22828250
Bajaj Electricals Toll Free Numbers : 1800222252 / 18601806722.
For further information about the company products, i request you to visit the Bajaj electricals website : http://www.bajajelectricals.com/