Zero B Water Purifier Customer Care, Toll Free Number, Email Support & Head Office Addess
Contact Zero B Water Purifier: Listed below are the contact details of Zero B which is one of the famous water purifiers brand in India. Information related to the Customer Care, Toll Free Number, Corporate Office Address, Email Support and Website details are provided for customers reference.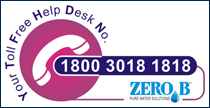 Zero B is bought to you by Ion Exchange India Ltd. who are into the business of water treatment and solutions which has become the premier company in water and environment management, with a strong international presence. In the consumer market, under the flagship brand, the company has introduced products from online water purifier to the most advanced Reverse Osmosis Water Purifiers.

Zero B Customer Care Number: 1800 3018 1818.
The above Zero B toll Free Number is operational 24×7 and customers can call for any queries.
Zero B Corporate Office Address:
Ion House, Dr. E. Moses Road,
Mahalaxmi, Mumbai-400 011, India
Tel :+91 22 2788 1234/39132222 / 39132207
Fax : (91) 22 2493 8737
Email Support: ieil@ionexchange.co.in
Free Product Demo : If you would like the sales personnel to come and visit your home for the product demo then you can either call the Customer Care Number or alternatively SMS ZEROB to 53536.
Website: www.zerobonline.com
For any product issues, complaints or service issues you can call and register your complaint or grievance on the Zero B Water Purifier Customer Care Number.