Casio Digital Camera India Customer Care, Service Centers & Contact Info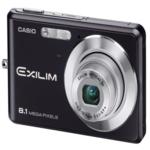 Casio is one of the oldest and leading companies that offers wide range of products ranging from watches and calculators to projectors and digital cameras. Casio Digital Cameras are available in different colors and are equipped with the latest features. QV-R series, QV series, Exilim card, pro, Hi zoom, Exilim G are some of the popular models offered by the company. Casio cmeras are crafted for the best picture quality, ultra slim design along with shock, resistant dust proof, freeze proof and water proof. 
Casio Digital Camera Service Centre & Customer Support – If you are looking for more information with regard to Casio Cameras in India then you can refer to the following details. Information with regard to Service Centers, Camera Support along with the website details are listed below for users to contact the company with any product, software, drivers & support queries.
Customer Care Number : 011-41054321
Fax Number : 011-41054330
Casio Exilim Website : http://www.exilim.com/intl/
For any other Casio Products support information you can visit the following post – Casio India – Customer Care Number, Address & Website Details.
For any other information regarding Casio Digital Camera problems, price details, models, customers can either contact Casio Digital Camera service center or refer to their Casio Digital Camera website .