Blue Star AC Customer Care Number, Toll Free Number, Email ID, Customer Service Centres Info
Blue Star AC Customer Care Number is provided below for customers to contact customer service team for any service/product related queries. Blue Star AC Toll Free Number is a 24/7  service number which can be used by the consumers to record their complaints.
Blue Star  Ac Customer Service Numbers are as follows:
Blue Star AC Toll Free Number : 1860 266 6666.
Alternate Toll-Free number: 1800 209 1177.
SMS Facility: Send "Service" to 57007
Email: customerservice@bluestarindia.com.
Escalation of Service Related, Installation & Delivery related Complaints: Even after contacting the Toll-free numbers, Email Support if users are not able to get satisfactory responses to the complaints registered with the company, Pls write to the following Escalation Service mailbox at: escservice@bluestarindia.com or you can call them at :022 67154500 alternatively you can also register your complaint online .  Similarly if you are facing any issues with regard to the Installation/Delivery of your newly bought Blue star Ac you can write to: escrad@bluestarindia.com.
Blue star AC corporate headquarters phone number : (91) (22) 66654000
Blue star AC corporate headquarters Fax number :  (91) (22) 66654151
For information about Blue Star AC prices , Models list , Warranty Registration, Dealer Locator, Service Centres, Service Locator,  please visit the Blue star website.
About Blue Star India : Blue Star is India's largest central air-conditioning company with an annual turnover of Rs 2800 crores. The company has a network of 29 offices with over 1200 dealers around India supporting the Sales and service network. With around 2800 employees and 6 modern manufacturing facilities in India the company fulfills the air-conditioning needs of Residential customers, Commercial & Corporate clien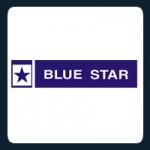 ts.