Amkette Contact Number, Customer Care, Website details
Amkette Contact details are provided below for users who would like to contact the company with any product related or service complaints.
Amkette Address :
C-64/4,Okhla Phase-II ,
New delhi : 110020,
Delhi , India.
Phone Number : (011) 26389876 26389877.
Technical Helpline: 91-9312691448
Website: www.amkette.in
Service Center Numbers:
Bangalore – +91-80-32966410/ 9739485163
Chennai – +91-44-32985004/ 9840435127
Mumbai – +91-22-32451447/ 8767182303
Hyderabad – +91-40-32997044/91- 7386806816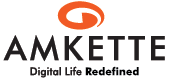 Amkette India started in the year 1986 to cater to the consumers through its digital lifestyle products. The company is very successful and has many firsts in the Indian market like the first floppy diskette manufacturer, flash TV etc. They have a wide range of product portfolio today ranging from storage, computing, entertainment & wireless products. Amkette's product range includes Storage Media such as Flash Drives, Memory Cards, CDR/ RW, and DVDR/RW, and Digital Efficiency Products like Laptop Sleeves, Cleaning Kits, Dust Covers, and DVD Wallets etc.